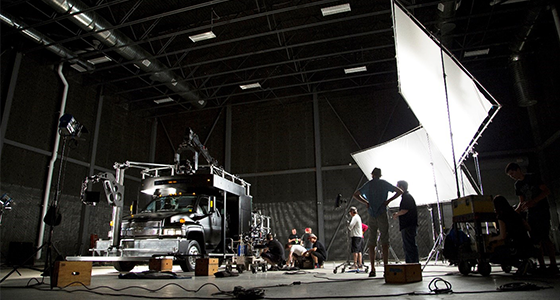 ABOUT US
Founded in 1963, William F. White International Inc. (WFW), a Sunbelt Rentals company, is Canada's most iconic provider of production equipment and studio properties to the entertainment industry. With offices across the country, we service productions of all sizes from coast to coast and house an extensive state-of-the-art inventory, including camera, lighting, grip + power, specialty equipment, location equipment supply, virtual production volumes, and production-ready studio properties.
With over 30 sound stages and ample mixed-use high-ceiling warehouse space spread across our 12 studio facilities, WFW now manages over 1.55 million square feet of production-ready studio space. In addition to our growing studio footprint, we recently added a Backlot to our roster. The 23-acre small town is situated on a 90-acre plot of land complete with 30 storefronts and five interior sets. The town is easily expandable and can be converted to suit productions of all types, from rustic western settings to bustling New York City streets.
 
WFW + SUNBELT RENTALS
Our parent company Sunbelt Rentals is constantly advancing the idea of what an equipment rental company can do for its customers, through unmatched customer solutions, uncompromising customer safety, and continuous innovation.
With a passionate team of 22,000+ equipment rental experts, a growing network of 1,250 locations throughout Canada, the US, and the UK, along with an extensive offering of quality equipment available for pick-up or delivery, Sunbelt Rentals helps customers make it happen.
Sunbelt Rentals provides an additional suite of services including telescopic forklifts, scissor lifts, boom lifts, along with other construction equipment options that supplement the WFW inventory and keep productions up and running. No other single company has access to the range and volume of equipment that WFW brings to the table.
 
WHAT TO EXPECT
When working with WFW, you not only receive access to state-of-the-art equipment and production-ready studio properties, but also direct support from our skilled technicians, in-house production experts, and best-in-class maintenance teams. You can truly count on us to be your Partner in Production from beginning to end.
 
OUR VALUES
Values are important to us, not only do they set us apart from the pack, but these shared values also bring us together. At the end of the day, it's these principles that we strive to live by in our everyday professional lives and what we turn to in the face of adversity.
We support and respect our team, clients, and community before anything else.
We act with integrity and follow through on our commitments.
We engage and empower great people to do great things.
We work with our industry partners to build safe, healthy, inclusive, and sustainable communities.
 
CONNECT WITH US
When you're ready to start planning your next production, feel free to connect with us in one of six locations across Canada: