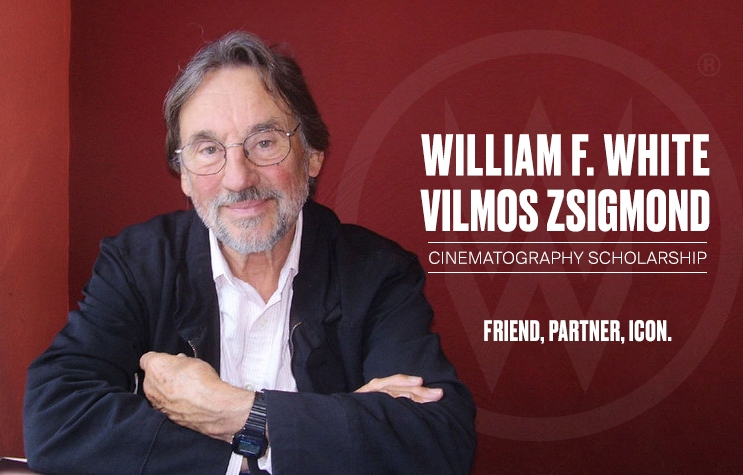 William F. White/Vilmos Zsigmond Cinematography Scholarship
William F. White / Vilmos Zsigmond Cinematography Scholarship
The William F. White / Vilmos Zsigmond Cinematography Scholarship offers a $3,000.00 cash scholarship to be awarded to a student currently enrolled in an accredited post-secondary or graduate studies program, toward a diploma or degree, in any of the following programs of study: Film, Digital Media, Television, and Cinematography Arts. 
This national scholarship is intended for students entering into their 2nd, 3rd or 4th year of studies, as well as those in graduate studies with a passion for the art of Cinematography, and who are currently enrolled in a recognized College or University. Students entering into their 1st year of studies are not eligible.  
The successful candidate will be the best all-around applicant, taking into account academic achievement, extra-curricular activities and interests, community involvement and work experience.
Students may reapply every year, with the opportunity of being awarded a scholarship only one time. The applicant may apply in any year of study that is Post-Secondary or Post-Graduate.
The deadline for this year's submissions is July 23, 2023.
About Vilmos Zsigmond
Famed cinematographer and Oscar-winner, Vilmos Zsigmond passed away on January 1st 2016 at the age of 85.  A long-time business partner of William F. White, Zsigmond was one of the founders and owners of Sparks Camera & Lighting Ltd., a leading Budapest, Hungary-based provider of top-quality professional production equipment. Sparks was originally co-founded through Whites as a joint business venture with Zsigmond, and has been servicing eastern and western European content creators since 1991. Our partnership and friendship with Vilmos inspired the creation of this scholarship, which will help us give back to the community in his honour. 
Vilmos gained prominence during the 1970s after being hired by Robert Altman as cinematographer for McCabe & Mrs. Miller. Subsequent major films he shot include Altman's The Long Goodbye,[2] John Boorman's Deliverance and Steven Spielberg's The Sugarland Express and Close Encounters of the Third Kind, the latter of which won him the Academy Award for Best Cinematography. Zsigmond worked with Brian De Palma on Obsession, Blow Out, The Bonfire of the Vanities, and The Black Dahlia, with Michael Cimino on The Deer Hunter and Heaven's Gate, with Richard Donner on Maverick and Assassins, with Kevin Smith on Jersey Girl, with George Miller on The Witches Of Eastwick, with Mark Rydell on Cinderella Liberty, The Rose, The River, and Intersection, and with Woody Allen on Melinda and Melinda, Cassandra's Dream, and You Will Meet a Tall Dark Stranger.
"Vilmos was one of the kindest, most accomplished and inspirational cinematographers of his time. We feel honoured and privileged to have been his partners."
 - WFW's Co-Chairman/Senior Advisor, Paul Bronfman
Learn More 
Vilmos Zsigmond: the cinematographer who transformed how films look - News Article
Vilmos Zsigmond Master Class Higher Learning | TIFF - Video 
Scholarship Testimonials
"Most importantly for me anyway, it's not about the money but being able to meet industry heads in Canada who are working and have been in the industry for a long time."
- Michael Kashuba, 2018 Scholarship Winner: https://youtu.be/wLFqEFcDUdY 
Read More About Vilmos & Apply Today: