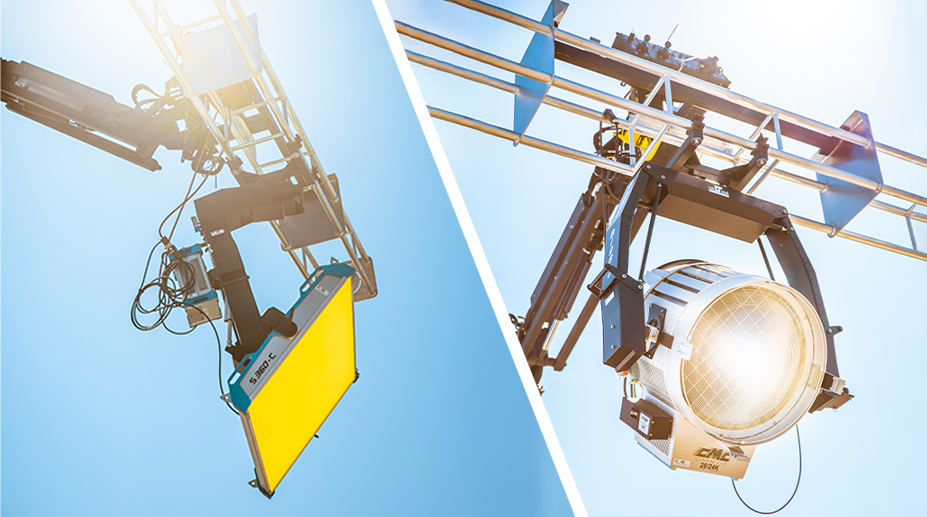 Motorized Yokes + Aerial Lifts
One of the biggest challenges with lighting a scene is controlling and placing your lights high up in the air.
The YipMan Yoke and the BigBee Yoke are general-purpose, universal motorized yokes that allow you to remotely control popular lighting fixtures while mounted at the end of an aerial lift from our partners at Sunbelt Rentals. 
Key Benefits:
Get full control of your lighting fixtures by being able to tilt and pan on both yokes. The YipMan yoke is also equipped with a rotate feature, while the BigBee yoke allows you to focus the connected lamp.
Sunbelts aerial lifts have four-wheel drive capable systems giving you full maneuverability to help you reduce your setup and takedown time.
Our motorized yokes are thoughtfully designed to be simple to use with quick setup and takedown time.
Safety is our top priority.
After a thorough design process, our motorized yokes and mounting system have been third party-certified as safe to use with Sunbelt Rentals' aerial lifts electrically by Interek and structurally by Walters Forensic Engineering. 

Spec sheets and instructional manuals are below for your reference.
For technical questions, or to book a private demo, please contact Mike Harwood, National Director, Technical Support and Development.