800 Islington Avenue
Toronto, ON 
M8Z 6A1
Hours: Mon-Fri, 8am-5pm ET
TEL: 416-239-5050
After Hours Emergencies: 647-222-0454
Camera: Mon-Fri, 8am-6pm ET
After Hours Emergencies: 416-522-4285
LES Toronto: Mon-Fri, 7:30am-5:30pm ET
Tel: 416-410-5858
Expendables Hours:
Mon-Fri, 8am-5pm ET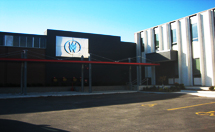 The doors to William F. White Toronto first opened in 1963. Since then, our operation has evolved into one of the world's premier rental facilities, offering the widest inventory of state-of-the-art professional production equipment in Canada. In 2010, we moved into our new home at the William F. White Centre. This new multimillion-dollar production complex acts as a hub for industry professionals while offering a full range of production and related support services under one roof. At the William F. White Centre, we're committed to nurturing the next generation of Canadian content creators, and to providing a training centre for student, indie and emerging filmmakers.
We're located close to major highway arteries, including the QEW/Gardiner Expressway and Highway 427. We're also conveniently close to Pearson International Airport. A short drive to both downtown Toronto and Pinewood Toronto Studios, we're ideally located for productions of any kind in Toronto.
At our Toronto location, we service productions of all sizes, from blockbuster tentpoles to commercials and music videos. Recent titles include IT, The Shape of Water, Shazam, Designated Survivor and The Handmaid's Tale.
 
Contact Us!
Lighting, Grip + Power
| | | |
| --- | --- | --- |
| Jesse Collier, CSR, Lighting, Grip + Power, Commercial/Short Format | Kevin Earle, Supervisor, Client Service Representatives, Lighting, Grip + Power, Long Format | Stephan Indellicato, CSR, Lighting, Grip + Power, Short Format/Indie |
| Jeff Kuzyk, CSR, Lighting, Grip + Power, Long Format | Chuck McLearn, CSR, Lighting, Grip + Power, Short Format/Indie | Reid Patterson, CSR, Lighting & Grip, Long Format |
| Jeff Pettit, CSR, Lighting, Grip + Power, Commercial/Short Format | Brendan Roesler, CSR, Lighting, Grip + Power, Long Format | Nick Van der Spank, CSR, Lighting, Grip + Power, Long Format |
Camera
| | | |
| --- | --- | --- |
| Miranda Binsley, Director, Client Services, Camera | Emma Wardle, Director, Client Services, Camera | Veronica Ladico, Manager, Client Services, Camera |
| Sheena Munroe, Senior CSR, Camera | Anthony Baldwin, CSR, Camera | Amanda MacKay, CSR, Camera |
| Ryan Mann, CSR/Prep Technician, Camera |   |   |
Location Equipment
| | | |
| --- | --- | --- |
| John Doyle, Manager, Client Services & Business Development, LES | Mike Birch, Manager, Rentals, LES | Nick Gasparik, Manager, Operations |
| Fawn Big Canoe, CSR, LES | Joseph Grech, CSR, LES | Anthony Stanghini, CSR, LES |
| Judy Whitham, CSR, LES | Justine Rosales, CSR, LES |   |
Specialty Equipment
Jeff Packer,  Operations Manager East

Sofia Simanovich, CSR

Jodie McAree, CSR
Studios
Brendan Ward, Manager, Studio Operations, Studios
Additional Contacts
| | | |
| --- | --- | --- |
| Greg Jeffs, Client Services Coordinator, Emerging Filmmakers | Maryanne Malchuk, CSR, Generators | Jeff Pettit, Supervisor, Commercial/Package Trucks |
| Ashley Christie, Expendables Coordinator | Mandy Kane, Expendables Coordinator |   |