Create Your Virtual World In Studio
About
Virtual Production is WFW's newest line of business and one that is positioned for rapid growth. WFW is deeply committed to virtual production as an integral part of the future of filmmaking. Unlike our traditional studio offerings, virtual production allows filmmakers to utilize a combination of live action and cutting-edge digitally created environments rendered in real time on LED walls and ceilings (known as "volumes") to deliver a production experience unlike any other. With this new technology, clients are able keep costs down, increase creative control, reduce their carbon footprint, and provide an interactive experience for cast and crew.
WFW has partnered with Academy and Emmy award-winning visual effects giant, Pixomondo (PXO), in collaboration with our technology partners Brompton Technology, Epic Games, Lenovo, NVIDIA, and ROE Visual, to create unique opportunities to produce entire virtual worlds in studio.
Notable productions like Disney's The Mandalorian and CBS's Star Trek: Discovery have already taken full advantage of this burgeoning technology to create incredible high-fantasy, science fiction worlds all while inside a studio.
 
Locations
Volume One - Toronto
 
Stage: 22,500 sq. ft.  
LED volume: 5,500 sq. ft.
Shape: Horseshoe (72' across)
Ceiling height: 24'
ROE LED-BP2 wall panels: 1800
ROE LED-CB5S ceiling panels: 650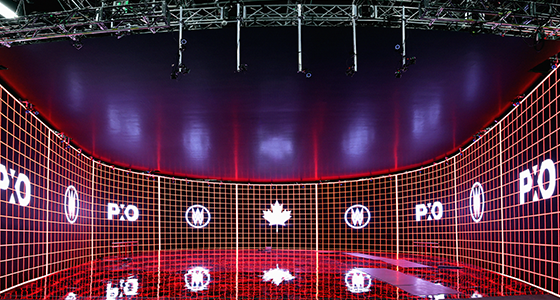 Designed for features and television series, Volume 1 is currently home to Star Trek: Discovery and Star Trek: Strange New Worlds as production crews create virtual planets and galaxies to explore.
Volume Two - Toronto
Stage: 16,100 sq. ft.  
LED volume: 2,000 sq. ft.
Shape: Semi-circle (62' across)
Ceiling height: 20'4" (articulating ceiling sections)
ROE LED-BP2 wall panels: 720
ROE LED-CB5S ceiling panels: 175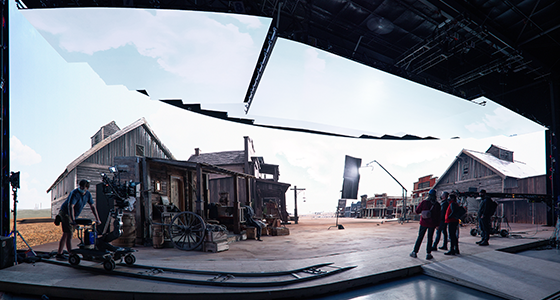 Located in Stage 6 at Studio City's recently completed development in the Port Lands district of the city's downtown core, this volume is designed for shorter duration projects including film and television productions, as well as commercials that only require the space for a limited amount of time - days, weeks, or months. 
Volume Three - Vancouver
Stage: 22,000 sq. ft.  
LED volume: 7,000 sq. ft.
Shape: Circle (80' across, 310-degrees)
Ceiling height: 28' from floor (24'5" from riser)
ROE LED-BP2 wall panels: 2500
ROE LED-CB5S ceiling panels: 760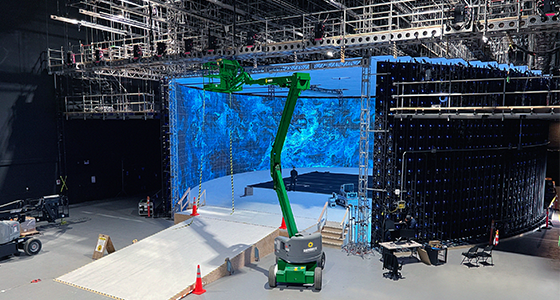 Based in Metro Vancouver at the Canadian Motion Picture Park (CMPP), William F. White's first west coast-based virtual production offering is one of the largest volumes in the world and was constructed in the shape of a circle to provide content creators with 310-degrees of LED screens. This volume has been designed to service features and television series including Netflix's latest live action retelling of the classic Nickelodeon animated series, Avatar: The Last Airbender.
Our Work
 
Our Virtual Production stages are changing the way directors and cinematographers approach filmmaking. Here's an overview of some of the great projects we've been a part of at Volume 2, Toronto. 
A behind the scenes look at a commercial for McDonald's with only performers seated at a few tables on the stage with the rest of the restaurant environment displayed on our LED wall.
Shot at Volume 2, Toronto, here's a behind the scenes look at a commercial for The Ordinary's hair care products.
Media
To view photos and videos of our virtual production volumes and more behind-the-scenes content, please click here.
 
Resources
Key Contacts and Links for Toronto's Film and Television Industry
Key Contacts and Links for Vancouver's Film and Television Industry
Why 'The Mandalorian' Uses Virtual Sets Over Green Screen
PXO: Virtual Production One-on-One
 
Press
William F. White and Pixomondo Partner to Bring Virtual Production to Vancouver and Toronto
Pixomondo and William F. White to Open Second Virtual Production Volume in Toronto Designed to Service Short-Term Projects
William F. White Hires Seasoned VFX Professional, Edward Hanrahan to Head Company's Virtual Production Business
William F. White Industry-Veteran and Vice President of Camera, Trevor Huys, to Oversee Company's Continued Virtual Production Expansion and Team