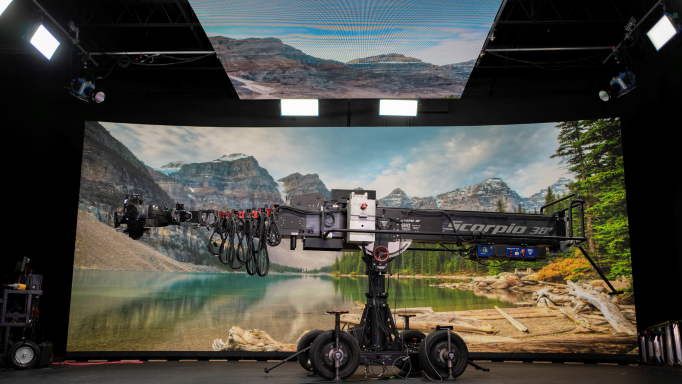 William F. White International launches the TechLab, a space dedicated to immersive learning in virtual production
Humber College is the first to partner with WFW to provide this unique educational opportunity to its Film and Television Production students
Toronto, ON (March 2, 2023) - William F. White (WFW), a Sunbelt Rentals Company, has launched the WFW TechLab, a space that offers an immersive, hands-on, real-time learning experience in all things virtual production. The space is open to both aspiring and seasoned filmmakers through WFW's ongoing efforts to provide educational and training opportunities to those working in the film and television industry.
As part of the WFW TechLab launch, the company has partnered with Humber College in Toronto to provide the space to students in the Humber Film and Television Production (FMTV) program. Students will spend part of their semester gaining valuable experience shooting on an LED volume.
"Virtual production delivers a production experience like no other," says Trevor Huys, Vice President, Camera and Virtual Production, WFW. "With its potential to transform the film and television industry, we feel it's crucial to provide opportunities for filmmakers to learn about this innovative technology. We're thrilled to be partnering with Humber College to set up students and future filmmakers for success."
Humber's FMTV program boasts a "learn by doing" system, resulting in more than 130 student-produced short films each year. This partnership aims to broaden the FMTV program curriculum, empowering students to feel comfortable with the ever-evolving technology being used in productions today.
"Developing training modules that allow us to incorporate new methodologies in media production; using an LED volume, incorporating real time compositing and achieving in-camera visual effects, are incredibly important in a market where these are rapidly becoming required skill sets for emerging talent to succeed in a global, knowledge-based and technology-driven entertainment industry," says Donna O'Brien- Sokic, Coordinator and Professor, FMTV program.
She adds, "Our training partnership with WFW represents the kind of forward-thinking collaborations that are needed to help build the workforce of tomorrow, ensuring that we - education and industry - build and sustain our robust and vibrant industry."
The WFW TechLab, located at the WFW Toronto office, boasts 4,000 sq. ft. of studio space, a 33' x 13' LED wall and 12' x 12' LED ceiling. The space will also be outfitted with ARRI cinema lights, integrated Technodolly 15' tracking in Unreal Engine and a testing space for new lighting and film equipment. Students will also have access to WFW's full inventory, including camera bodies, lenses, specialty equipment and lighting, grip and power.
"For over 50 years, Humber's film programs have developed some of Canada's top visual storytellers and craftspeople," says Guillermo Acosta, Senior Dean of the Faculty of Media & Creative Arts. "The opportunity to use such an innovative lab ensures that current students will carry this legacy into the next 50 years."
This semester, students from the Film & Television Production and 3D Animation programs will produce three student-led projects at the WFW TechLab. Screenings will be held this spring.
###
Media Contacts:
WFW
Ashley Villarroel
Manager, Communications
Humber College
Sylvie Lendvay
Media Relations and External Communications Specialist
WILLIAM F. WHITE: Founded in 1963, William F. White International Inc., a Sunbelt Rentals company, is Canada's most iconic provider of production equipment to the entertainment industry. With offices across the country, the company services productions of all sizes from coast to coast and houses an extensive state-of-the-art inventory, including camera, lighting, grip, power, specialty equipment, location support, virtual production volumes, and over 1.55 million sq. ft. of production-ready studio properties, in addition to a 23-acre Backlot situated on a 90-acre plot of land complete with 30 storefronts and five interior sets.
SUNBELT RENTALS: We MAKE IT HAPPEN! With a passionate team of 22,000 rental experts, a growing network of over 1,250 locations across North America and the United Kingdom, and an extensive equipment fleet that exceeds $14.2 billion, Sunbelt Rentals helps professionals and do-it-yourselfers get things done. With a highly diversified offering of equipment, solutions, and services available, we assist customers extend their capabilities, complete projects on-time, and handle times of crisis. No matter if you are in commercial, industrial, residential, or municipal industries, we are constantly advancing the idea of what an equipment company can do for its customers. To find out what we can do for you in North America, visit sunbeltrentals.com and sunbeltrentals.co.uk for the United Kingdom.
HUMBER COLLEGE: Innovation. Opportunity. Partnership. Support. At Humber College, we bring it all to more than 86,000 learners, in-person and online. As a global leader in polytechnic education, Humber provides in-depth theoretical learning, hands-on, work-integrated experiences and applied research opportunities to students at three main Toronto locations and beyond. Extensive industry connections, experienced faculty and a comprehensive range of credentials, including honours undergraduate degrees, Ontario graduate certificates, diplomas, apprenticeships, and certificates prepare career-ready global citizens for success in the future world of work. Visit humber.ca