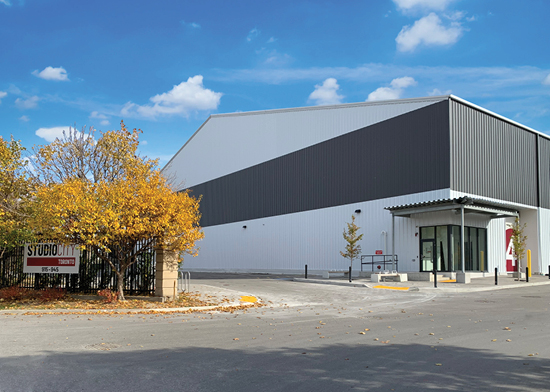 William F. White International acquires Studio City Toronto in continued studio expansion
The deal, closed December 2, brings the total studio production space owned and managed by WFW to 1.55 million sq. ft.
Toronto, ON (Dec 7, 2022) - William F. White International Inc. (WFW), a Sunbelt Rentals company, is pleased to announce the acquisition of Studio City Toronto, one of Toronto's busiest studio complexes for film and television production, as well as Studio City Rentals, a leading provider of rigging and scaffold to the film and television industry.
Studio City Rentals, with locations in Toronto, Vancouver and Los Angeles, was founded by Chris Nethercoat and Mike Kirilenko in 1999.
Studio City Toronto, also owned by Nethercoat and Kirilenko, is situated in the east end of the city's downtown core and boasts 148,000 sq. ft. of purpose-built studio facilities through its six sound stages and work areas. It includes the renowned Jumbo stage - a 36,000 sq. ft. stage with 55' ceiling clearance at its peak with no columns. Studio City Toronto is also home to WFW's LED volume for virtual production.
"We are excited to welcome Studio City Toronto as well as Studio City Rentals to the WFW and Sunbelt Rentals family," says Garin Josey, Executive Vice President/Chief Operating Officer, WFW. "For our clients, these acquisitions are the perfect complement to our business as we continue to deliver world-class studio space and production equipment to the local and international film and television industry."
Kirilenko comments, "This is the opportunity we have been waiting for - Studio City Toronto and Studio City Rentals are perfectly positioned for rapid growth and with the support of WFW and Sunbelt Rentals we can continue to bring innovative solutions to a market that will continue to demand only the best."
Chris Van Mook, Senior Vice President, Sunbelt Rentals of Canada adds, "I am excited about the addition of Studio City Toronto and Studio City Rentals professionals in Canada and the United States to the Sunbelt Rentals team. These acquisitions are about meeting the demands of the North American industry head on, whether it's studios, rigging or production equipment, all coupled with the high-level of service our customers have come to expect from WFW and Sunbelt Rentals. We look forward to making it happen for our clients."
###
WFW
Ashley Villarroel
Manager, Communications
avillarroel@whites.com
Studio City Toronto/Studio City Rentals
Mike Kirilenko
President
mkirilenko@studiocityrental.com
WILLIAM F. WHITE: Founded in 1963, William F. White International Inc. (WFW), a Sunbelt Rentals company, is Canada's most iconic provider of production equipment to the entertainment industry. With offices across the country, the company services productions of all sizes from coast to coast and houses an extensive state-of-the-art inventory, including camera, lighting, grip, power, specialty equipment, location support, virtual production volumes, and over 1.55 million sq. ft. of production-ready studio properties, in addition to a 23-acre Backlot situated on a 90-acre plot of land complete with 30 storefronts and five interior sets.
SUNBELT RENTALS: We MAKE IT HAPPEN! With a passionate team of 20,700+ rental experts, a growing network of over 1,250 locations across North America and the United Kingdom, and an extensive equipment fleet that exceeds $13.2 billion, Sunbelt Rentals helps professionals and do-it-yourselfers get things done. With a highly diversified offering of equipment, solutions, and services available, we assist customers extend their capabilities, complete projects on-time, and handle times of crisis. No matter if you are in commercial, industrial, residential, or municipal industries, we are constantly advancing the idea of what an equipment company can do for its customers. To find out what we can do for you in North America, visit sunbeltrentals.com and sunbeltrentals.co.uk for the United Kingdom.
STUDIO CITY TORONTO: Studio City Toronto, located at 915 Lake Shore Blvd East, is Toronto's first purpose-built studio complex. The studio was built in 1989 and was the former home of Showline Studios before being purchased by the City of Toronto in 2017. The 148,000 sq. ft. studio houses six sound stages, including the addition of their 36,000 sq. ft. Jumbo stage, offices and production support facilities just east of the downtown core. For more information, visit studiocitytoronto.ca.
STUDIO CITY RENTALS: Studio City Rentals, founded in 1999, is one of the leading suppliers of rigging equipment to the film and entertainment industry in Los Angeles, Vancouver and Toronto. With an extensive product line and years of expertise, Studio City Rentals is well-equipped to facilitate any studio space with all its rigging requirements. For more information, visit studiocityrental.com.