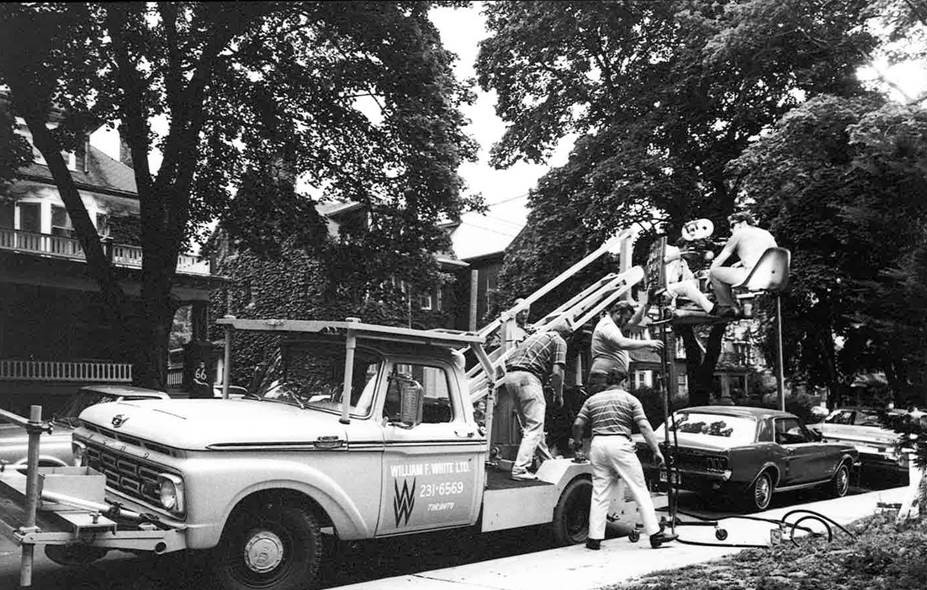 William F. White celebrates 60 years supporting Canada's film and television industry
The milestone comes at an exciting time with the company's plans of continued expansion globally.
Toronto, ON (April 12, 2023) - William F. White International Inc. (WFW), a Sunbelt Rentals company, is commemorating its six-decade-long legacy of unwavering support to Canada's thriving film and television industry. Since its founding in 1963, WFW has been at the forefront of the industry, helping to bring to life the creative vision of filmmakers with its extensive range of state-of-the-art production equipment, cutting-edge technology, and innovative solutions. In recent years, WFW expanded its offerings to include purpose-built studios and virtual production volumes.
"We are incredibly grateful for the support of our clients, vendors and industry partners over the past 60 years," said Garin Josey, Executive Vice President and Chief Operating Officer, WFW. "Their confidence in us has enabled us to grow and evolve, with the ultimate aim of being their go-to partner in production. We are proud to have been a part of so many local and international productions throughout the years."
As Canada's largest and most iconic provider of production equipment, WFW has established itself as a trusted resource for productions from coast to coast. Over the past six decades, the company has evolved from two trucks with lighting equipment in Toronto, to six locations across Canada and over 500 employees.
WFW's contributions to the Canadian film and television industry goes beyond equipment rentals, by way of supporting education and training opportunities for young filmmakers and crew members, as well as sponsorships for various organizations and film festivals. In 2020, WFW was proud to support the industry in the successful production restart during the COVID-19 pandemic.
As part of its anniversary celebration, WFW is also excited to announce the return of its popular tradeshow, which will take place for the first time in the summer in Toronto from Friday, June 16 to Saturday, June 17. The "Summer Sizzle" event will showcase the latest production equipment and technology, providing clients, partners and production crews an opportunity to connect with industry experts and vendors. Further details to be released at a later date.
"As we celebrate the 60th anniversary of WFW, we reflect on its rich history as a pioneer and leader in Canada's film and television industry and look forward to what lies ahead," says Paul Bronfman, Co-Chairman and Senior Advisor, WFW. "We owe our success to the incredible WFW staff, past and present. Our people are the backbone of this organization, and we wouldn't be where we are today without them."
Bronfman adds, "It's great to have Sunbelt Rentals as a partner, who shares our values and commitment to people. Congratulations to the entire WFW team on this remarkable milestone, and here's to many more years of continued success and good health."
Beyond its Canadian footprint, WFW provides integrated full-service production solutions to global clients in the UK through Sunbelt's acquisitions of Movietech, PKE Lighting, Media Access Solutions, and Alpha Grip.
###
Media Contact:
Ashley Villarroel
Communications Manager
About William F. White International
Founded in 1963, William F. White International Inc., a Sunbelt Rentals company, is Canada's most iconic provider of production equipment to the entertainment industry. With offices across the country, the company services productions of all sizes from coast to coast and houses an extensive state-of-the-art inventory, including camera, lighting, grip, power, specialty equipment, location support, virtual production volumes, and over 1.55 million sq. ft. of production-ready studio properties, in addition to a 23-acre Backlot situated on a 90-acre plot of land complete with 30 storefronts and five interior sets.
About Sunbelt Rentals
We MAKE IT HAPPEN! With a passionate team of 22,000 rental experts, a growing network of over 1,250 locations across North America and the United Kingdom, and an extensive equipment fleet that exceeds $14.2 billion, Sunbelt Rentals helps professionals and do-it-yourselfers get things done. With a highly diversified offering of equipment, solutions, and services available, we assist customers extend their capabilities, complete projects on-time, and handle times of crisis. No matter if you are in commercial, industrial, residential, or municipal industries, we are constantly advancing the idea of what an equipment company can do for its customers. To find out what we can do for you in North America, visit sunbeltrentals.com and sunbeltrentals.co.uk for the United Kingdom.