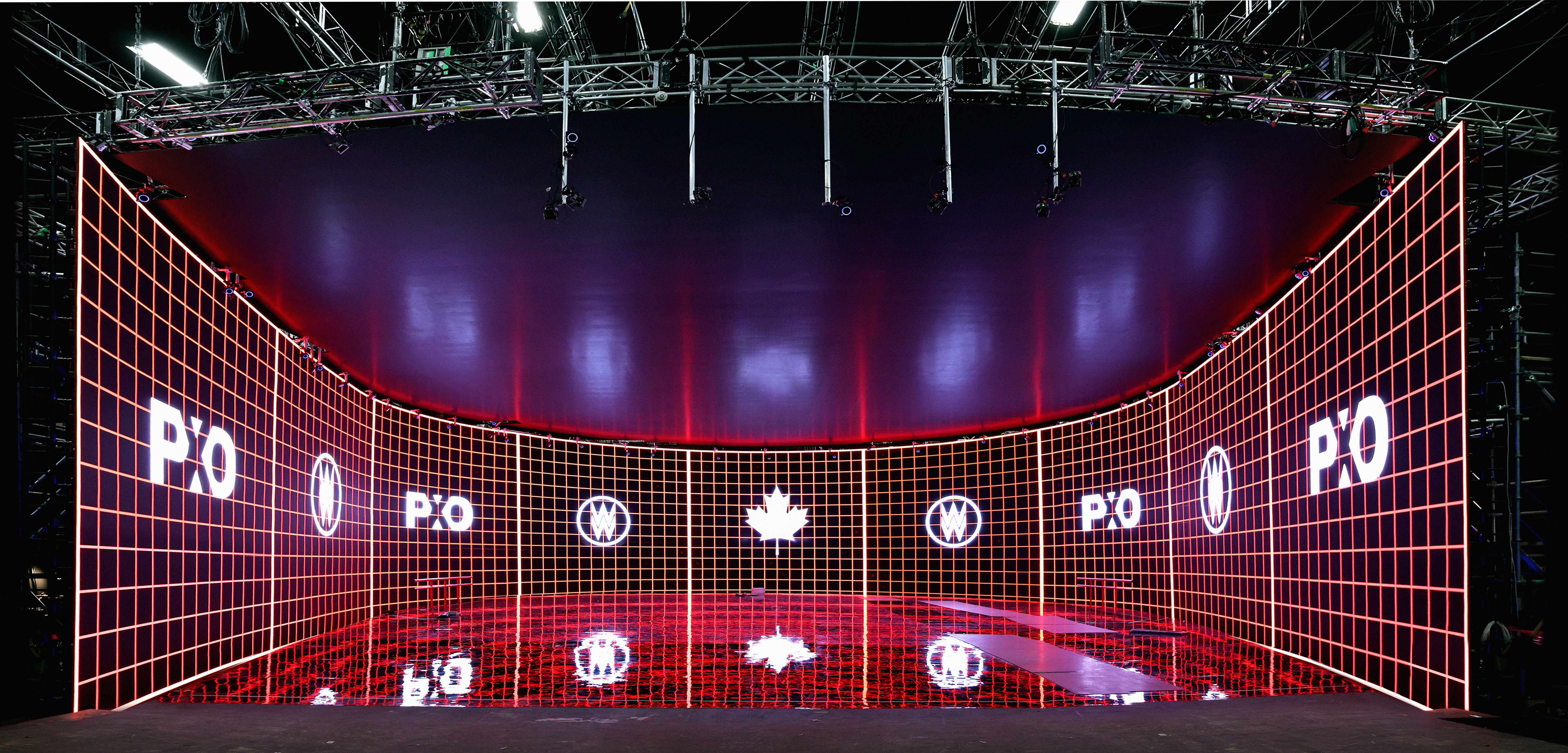 WILLIAM F. WHITE AND PIXOMONDO PARTNER TO BRING VIRTUAL PRODUCTION TO VANCOUVER AND TORONTO
Multi-year exclusive collaboration to build virtual production studios coast-to-coast in Canada
 
LOS ANGELES - JUNE 9, 2021 - Oscar-winning visual effects company Pixomondo ("PXO") and Canada's leading TV & film equipment rental business, William F. White International ("WFW"), a Sunbelt Rentals company, announced a collaboration to build LED volumes across Canada together with a combined initial capital commitment of more than $30 million.
Under the new arrangement, WFW and PXO will co-rent LED volume equipment, with two new stages already under joint construction in Vancouver and Toronto. Several other new sites across Canada will follow in 2022.
The high demand for virtual production shoots, coupled with strong bookings at Toronto's first LED Volume in the city's West End, prompted the decision to formalize the working arrangement over the long term, for the whole of Canada.
The second Toronto stage will be completed in July 2021 and is designed for shorter-term bookings and projects with quick turnaround times. It will be based at Studio City's recently completed development at the east end of the city's downtown core, minutes away from PXO's Toronto office at Revival Studios and close to WFW's Toronto office and Pinewood Studios.
The new Vancouver stage, which will be the largest build of the three sites to date, is under construction at an undisclosed location and is scheduled for completion in September 2021.
 
TECHNOLOGY PARTNERS BACK ON BOARD
 
As with the first Toronto stage, the two new volumes will be operated by on-set PXO personnel for all productions, including those using the company's 3D environment creation services. PXO and WFW have designed and will build the volumes in close collaboration with their technology partners Brompton Technology, Epic Games, Lenovo, NVIDIA and ROE Visual.
Jonny Slow, PXO CEO, commented: "We are absolutely delighted to be able to formalize our collaboration with WFW and their unassailable track record in film and TV equipment rental and studio property management. Combined with PXO's award winning VFX offering, and a game changing capital commitment from both parties, we are excited to confirm additional virtual production investment into Canada and into these state-of-the-art physical production techniques."
"As leaders in our respective industries, our two companies are such a natural fit when it comes to providing a full-service client experience that is truly unmatched in the world of virtual production," says Garin Josey, Executive Vice President/Chief Operating Officer, WFW. "This next phase we're embarking on together has the potential to radically change the production process. These LED volumes in Vancouver and Toronto are only a preview of what's to come."
"Over the past few months, we've been building a fantastic relationship with Jonny and the team at PXO and we're eagerly anticipating a bright future together," says Rick Perotto, Vice President, Business Development, WFW. "Our local offices in Vancouver and Toronto will provide virtual production clients with access to a world-class selection of production equipment to support their every need."
 
#      #      #
 
ABOUT VIRTUAL PRODUCTION:
Virtual Production represents a paradigm shift in the way film and TV are made. Cutting-edge digital environments rendered in real-time with the latest LED technology deliver an immersive production experience unlike any other. It provides clients with enhanced creative control and "in-camera" visual effects that save valuable time and money on expensive post-production visual effects or diverse filming locations. (click here to watch a visual explanation: https://youtu.be/kdhsCV45zW0 )
ABOUT PIXOMONDO ("PXO"):
PXO is an award-winning visual effects studio with offices in North America, Europe and China. PXO won an Academy Award for its VFX work on Martin Scorsese's Hugo and several Emmys for Game of Thrones. The company is Emmy nominated for its VFX work on Westworld, Star Trek: Discovery and The Orville. Recent and current PXO work includes Tom Clancy's Without Remorse starring Michael B. Jordan, David Oyelowo's family adventure film The Water Man, the action pic Greenland starring Gerard Butler and the next Roland Emmerich feature, Moonfall.
ABOUT WILLIAM F WHITE INTERNATIONAL INC ("WFW"):
Founded in 1963, William F. White International Inc. (WFW), a Sunbelt Rentals company, is Canada's most iconic provider of production equipment to the entertainment industry. With offices across the country, the company services productions of all sizes from coast to coast and houses an extensive state-of-the-art inventory, including camera, lighting, grip, specialty equipment, location support and over 1.4 million square feet of production-ready studio properties.
 
PXO Press Contact:
Zorianna Kit
Head of Marketing and Communications, PXO
+1 (323) 697-5307
 
WFW Press Contact:
Jonathan Whitt
Assistant Marketing Manager, Communications
William F. White International Inc.
+1 (519) 588-0440