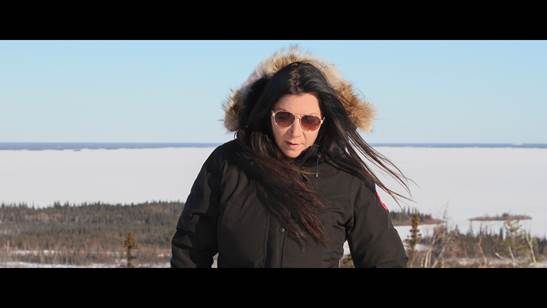 WIDC Feature Film Award winner, Marie Clements' much-anticipated feature-length drama, Red Snow has begun principal photography in Yellowknife, Northwest Territories
FOR IMMEDIATE RELEASE: March 22nd, 2018, Vancouver, BC) Producers Marie Clements (MCM Inc.), Lael McCall (Principia Productions), Michelle Morris (Lily Pictures), and the Women In the Director's Chair (WIDC) organizers announce the start of production on Marie Clements' much-anticipated feature-length drama, Red Snow.
Principal photography began in Yellowknife, Northwest Territories, March 20, 2018. The production then moves to the interior of BC, to complete principal photography by May 31st, 2018.
Clements is the writer, director, and majority producer on Red Snow. The team also includes executive producer, Carol Whiteman (Never Steady, Never Still), cinematographer Roger Vernon (The Mountain Between Us), production designer, Michael Diner (The Revenant), and sound designer, Craig Berkey (Darkest Hour, Tree of Life).
In a dramatic adventure that lays bare the land, blood ties, and two ancient cultures collide to set alight a future born of 10,000 words for snow, Red Snow begins when DYLAN (Asivak Koostachin, Cardinal), a Giwch'in soldier from the Canadian Arctic, is caught in an ambush in Kandahar, Afghanistan. His capture and interrogation by a Taliban Commander (Kane Mahon, The Breadwinner) releases a cache of memories connected to the love and death of his Inuit cousin, Asana (Miika Whiskeyjack, Blackstone), and binds him closer to a Pashtun family as they escape across treacherous landscapes and through a blizzard that becomes their key to survival. Red Snow also stars one of Canada's most highly acclaimed actresses Tantoo Cardinal, Michelle Thrush and Steven Cree Molison, along with Mozdah Jamalzadah, who CNN World touts as Afghanistan's "Oprah".
"There's a misconception that Indigenous stories are unto themselves, that they are somehow separate from what we think as the Canadian experience when in fact this is the core of who we are, and who we have become," says Red Snow writer/director/producer, Marie Clements. "There are so many barriers you literally forget that you are breaking them."
Red Snow has received financial support from the CBC Breaking Barriers Film Fund, Telefilm Canada, The Harold Greenberg Fund, APTN, Creative B.C., the Northwest Territories Film Rebate program, and is a recipient of Canada Media Fund's Aboriginal Convergent funding which, in part, will support the production of an online Book of Snow for website browsers to record words for snow in their languages around the world.
The film will be shot in Yellowknife, NWT, Kamloops, Whistler and Cache Creek, B.C. It will encompass four languages: Gwich'in, Inuvialuktun, Pashto and English.
"We're thrilled to be working with Marie Clements and her producing partners Lael McCall and Michelle Morris on Red Snow. I was immediately drawn to this story that takes us on a journey from the Canadian Arctic to Khandahar," says Mehernez Lentin, Senior Director, CBC Breaking Barriers Film Fund. "I love that the Far North meets the Middle East, revealing the interconnectedness of these two global realities and tribal cultures, told from the POV of a First Nations soldier caught in a Taliban ambush. Marie has woven distinct characters that reveal the mythology of ancient cultures and the struggle for survival within their disparate landscapes."
As Red Snow's first-in funder, the WIDC Feature Film Award has backed Clements with a prize worth nearly $200,000 in in-kind services and rentals from some of Canada's leading film industry companies, including Panavision Canada, William F. White International Inc., North Shore Studios, as well as executive producing services provided by Whiteman. See backgrounder for a full list of WIDC sponsors.
Web: http://www.redsnow.ca/ | Twitter: https://twitter.com/redsnowfilm/
Instagram: https://www.instagram.com/redsnowfilm/ | #RedSnow
Backgrounder
Marie Clements - has ignited her brand of artistry within a variety of mediums including film, TV radio, new media and live performance. Clements' most recent screen project, the musical documentary The Road Forward,premiered at Hot Docs and opened the 2017 DOXA Documentary Film Festival. An NFB production, The Road Forward connects a pivotal moment in Canada's civil rights history–the beginnings of Indian Nationalism in the 1930s–with the powerful momentum of First Nations activism today. A multi-award-winner for her previous work, Clements' films have screened at Cannes, TIFF, VIFF, Whistler Film Festival, American Indian Film Festival and imagineNATIVE Film festival, and aired on APTN. MCM is an independent media production company owned and operated by Clements specializing in the development, creation and production of innovative works of media that explore an Aboriginal and intercultural reality.
CBC Breaking Barriers Film Fund - CBC Breaking Barriers Film Fund supports the production of English-language feature films led by Canadian female and diverse filmmakers. Our criteria is to fund projects where the key creatives - writer, director and/or lead producer - are Canadian women, Indigenous persons, visible minorities or persons with a disability who have had at least one feature film showcased at a recognized film festival. Eligible projects must have a final draft screenplay, achieve at least six out of 10 CAVCO points and not already be in production. There are no application deadlines. We encourage applications to be submitted when they are creatively ready. There are no application deadlines rather applications should be submitted when they are creatively ready.
WIDC - Founded in 1997, Women In the Director's Chair (WIDC) offers mentorship, project development and production awards for Canadian women screen directors. With more than 230 award-winning director alumnae across Canada, over the last twenty-one years WIDC has elevated the voices of a generation of women screen directors.
The WIDC Feature Film Award is supported by Bell Media's Harold Greenberg Fund, Panavision Canada, MELS Studios, William F. White International, Keslow Camera Film and Digital, Sim, Encore Vancouver, Technicolor Toronto, Skylab Vancouver, White Hart Post Productions, North Shore Studios, The Bridge Studios, Vancouver Film Studios, The Research House Clearance Services Inc., Descriptive Video Works, Front Row Insurance. Since 2009, the WIDC Feature Film Award has supported the completion of six multiple award-winning feature-length films by Canadian women directors including Katrin Bowen (Amazon Falls), Lulu Keating (Lucille's Ball), Ana Valine (Sitting On the Edge of Marlene), Siobhan Devine (The Birdwatcher), and Jordan Canning (Suck It Up).Kathleen Hepburn's Never Steady, Never Still has earned multiple festival awards, four Vancouver Film Critics Circle awards, eight Canadian Screen Award nominations and is distributed by Thunderbird Releasing in Canada and the UK, and LevelK in the U.S.
WIDC is also supported by ACTRA National, TELUS STORYHIVE, Creative BC, Actra Fraternal Benefit Society,UBCP/ACTRA,  Stohn Hay Caffazzo Dembrowski Rishmond LLP, Independent Production Fund, ACTRA Alberta,  and enjoys community collaborations with Whistler Film Festival, St John's International Film Festival, Female Eye Film Festival, Vancouver International Women In Film Festival, 1st Weekend Club, Canada Screens, Crazy 8's.
Web: https://www.widc.ca | Twitter: https://twitter.com/widc_ca
Instagram: https://www.instagram.com/widc.ca | #WIDC
-30-