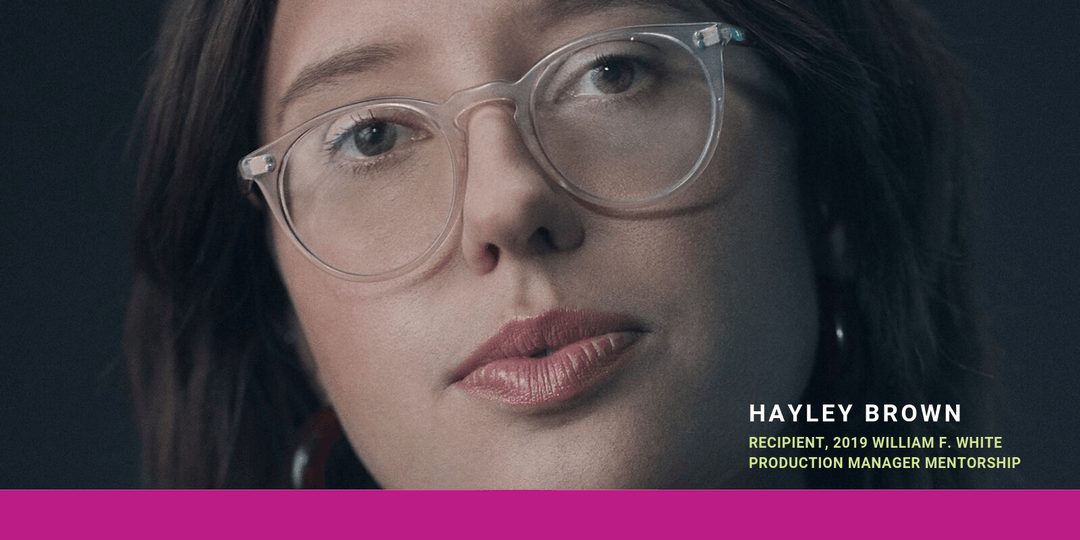 STANLEYVILLE PRODUCER, HAYLEY BROWN, RECEIVES 2019 WIFT-T WILLIAM F. WHITE PRODUCTION MANAGER MENTORSHIP
Women in Film & Television-Toronto (WIFT-T) is proud to announce Hayley Brown, as the recipient of its 2019 William F. White Production Manager Mentorship.
"We are so pleased to have someone as energetic and creatively driven as Hayley win this mentorship. We know that she'll take full advantage of all that it has to offer, and we can't wait to see what she does next."
– Laurie Januska, Director of Programming, WIFT-T
Hayley Brown (IMDB) is an independent Canadian film producer focused on enabling female-driven projects that aspire to tell relatable and diversified stories in innovative ways. Beginning her career as the artistic director of a theatre company in Montreal, Hayley transitioned into distribution at Elevation Pictures (The Imitation Game, Moonlight), before going on to work in production and development with Northwood Entertainment (The Beginners), First Generation Films (Regression, The Whistleblower), Babe Nation (The Rest of Us), and Film Forge (Sleeping Giant). She has worked extensively across narrative long and short form film (The Grizzlies, White Lie), music videos, commercial projects, and large-scale series, including CBC/Netflix's Anne with an E. Hayley is currently in post production on Stanleyville, her first feature film as lead producer. The forthcoming dark comedy–recipient of Telefilm's inaugural Talent to Watch grant–directed by Maxwell McCabe-Lokos (The Husband), shoots in Hamilton, ON, and Berlin, Germany. Stanleyville stars Susanne Wuest (Goodnight Mommy), Cara Ricketts (Book of Negroes), Adam Brown (The Hobbit Trilogy), and Julian Richings (Supernatural).
Maxwell McCabe-Lokos' directorial debut goes to camera (Playback)
Telefilm Canada & Talent Fund unveil the new wave of Canadian talent (Telefilm Canada)
Introduced in 2011, the William F. White Production Manager Mentorship provides hands-on, practical training in the proper handling, use, and significance of the equipment available to the industry. Over one week (October 21-25) Hayley will receive one-on-one networking opportunities with a successful female production manager and establish relationships with other professionals. She will also be recognized on stage at the WIFT-T Crystal Awards Gala on December 3rd in Downtown Toronto.
"We love helping create additional job opportunities for Canadian women in the production industry through our continued partnership with WIFT-T. The Production Manager Mentorship Program allows us to open our doors and foster relationships between our knowledgeable employees and future female clients. We look forward to working with Hayley Brown as she begins her mentorship with us."
– Paul Bronfman, Chairman/CEO, William F. White International
"I am beyond thrilled for the opportunity to participate in the William F. White Production Manager Mentorship in association with WIFT-T. By allowing me to develop new skills, enrich my foundational technical knowledge, deepen my pre-existing relationships with the fantastic team at William F. White, and establish new mentors, this program will further enable my passion, as a production manager and producer, to cooperatively create art. Beyond being an invaluable opportunity for my own edification and professional growth, I look forward to applying the knowledge gained from this opportunity within the industry. By empowering young women and aiding in the dissolution of the gendered knowledge gap that's historically plagued technical fields, this mentorship is a massive step in the right direction toward enforcing gender parity in Canadian film and television–I'm honoured to have been named a participant. I couldn't be more excited to arm myself with knowledge that will enable me to become a better informed creator, collaborator, and confidant to fellow filmmakers."
– Hayley Brown
William F. White International Inc. is a Comweb Group member company. Founded in 1963, William F. White is Canada's most iconic provider of production equipment to the entertainment industry.