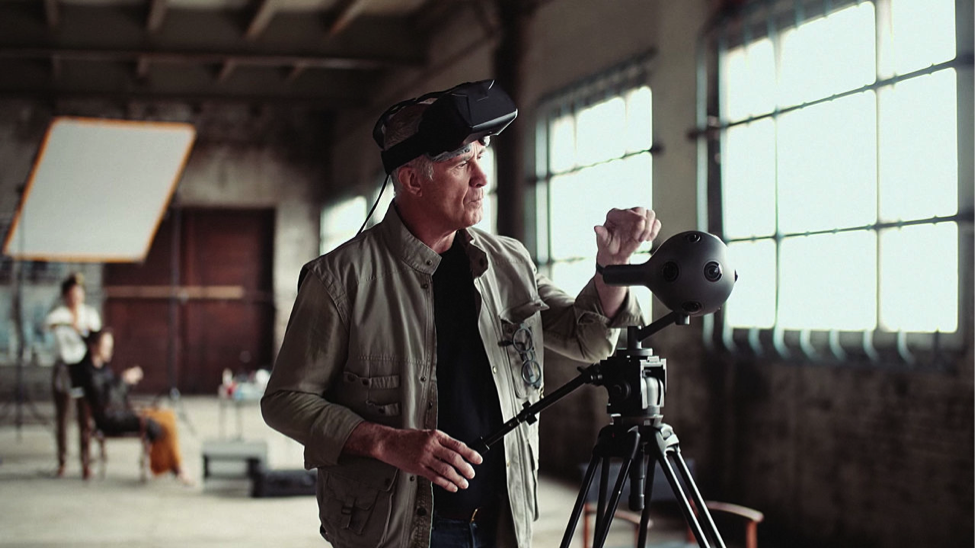 On Screen Manitoba, William F. White Int'l And New Media Manitoba Announce Partnership: Mobile Media Lab Brings State Of The Art Immersive And Interactive Technology To Manitoba Industry Professionals
Winnipeg, Manitoba - May 12, 2017 - On Screen Manitoba, William F. White Int'l and New Media Manitoba are proud to announce the launch of an innovative co-venture that will put key digital media production tools in the hands of Manitoba content creators and game designers. The Mobile Media Lab, made possible through a $135,000 contribution from Western Economic Diversification Canada and in-kind contributions from Whites, OSM and NMM, will allow Manitoba linear and interactive media producers and designers to experiment with new technologies and produce cutting-edge digital media projects.
The Mobile Media Lab offers state-of-the-art immersive and interactive equipment including the Nokia OZO Virtual Reality Camera with 360-degree audio and video capture. OZO is the world's first professional Virtual Reality camera. Three full body textile motion capture suits will enhance opportunity to develop Manitoba's capacity in 3D animation for films, video games and television projects. Industry professionals will also have the opportunity to explore augmented reality project development using a Hololens. In addition to traditional filming environments, the lab also features mobile rental services, allowing producers and designers to test and create on location and in their own spaces. On Screen Manitoba and New Media Manitoba will be providing a series of equipment orientation sessions, development accelerators and creation labs led by industry leaders in collaboration with local organizations.
The purpose of the Lab is to accelerate prototyping and IP development using emerging immersive and interactive technology. Lab equipment will be made available at preferential rates for members of On Screen Manitoba, New Media Manitoba, and other related non-profits.
"Manitoba has proven time and again that it is in the forefront of creativity. On Screen Manitoba is pleased to lead this partnership with Whites Winnipeg and New Media Manitoba and facilitate opportunity for Manitoba's content creators, producers and designers to access state of the art equipment," said Nicole Matiation, On Screen Manitoba Executive Director.
"This partnership with On Screen Manitoba and New Media Manitoba further solidifies our unwavering commitment to remain, innovative leaders of our industry," said Chairman/CEO Paul Bronfman. "The Mobile Media Lab will be the ideal workspace for Manitoba's production professionals to visit and learn using the most cutting-edge virtual reality equipment available."
"New Media Manitoba is excited to be partnering with On Screen Manitoba and Whites Winnipeg to bring this cutting-edge technology to Manitoba's interactive digital media and linear production industries," said Louie Ghiz, New Media Manitoba's Executive Director. "With the notable emergence of Virtual Reality development in Manitoba, we are looking forward to seeing the province's considerable, deep talent pool create innovative products as a result of this collaboration."
The Mobile Media Lab equipment includes:
* Nokia Ozo Camera bundle
* Ozo post-production unit
* 3 Rokoko full body textile motion capture suits
* 1 Oculus Rift unit
* 2 HTC Vive units
* 1 Microsoft Hololens unit
* 2 Samsung Gear VR units
* A state-of-the-art audio recording unit
* 4K video storage capabilities
Rental inquiries can be directed to William F. White:
Michael Drabot
Mobile: (647) 281-6112
Office: 204 -774-7903
mdrabot@whites.com
Sandra Simoes
Administration Manager/ CSR
Office: 204-774-7903
ssimoes@whites.com
On Screen Manitoba leads the development of a dynamic media production industry that is recognized for its world-class creative and technical talent. We are a non-profit professional association that includes both individuals (producers, writers, directors and other industry professionals) and organizations (production companies, labour groups, distributors, broadcasters, service suppliers, training bodies and exhibitors) representing some 1,500 media production industry professionals. Our members work in all genres and formats (in English, French and Aboriginal languages) and have access to some of the best production incentives in Canada.
New Media Manitoba (NMM) is a non-profit association serving Manitoba's interactive digital media (IDM) industry. NMM fosters growth in the IDM industry in Manitoba through advocacy, creative, technical and business training events, business development opportunities, trade missions, partnerships and collaboration. NMM's membership is made up of over 100 Manitoba IDM companies whose innovative products and services include video games, augmented reality, virtual reality, mixed reality, interactive installations, other rich interactive experiences, mobile apps, web design/development, transmedia, digital health and more. 
William F. White International Inc. is a Comweb Group member company. Founded in 1963, William F. White is Canada's oldest and largest provider of professional motion picture, television, digital media and theatrical production equipment. The company services productions of all sizes from coast to coast and has the most extensive inventory of equipment in the industry, including the very latest in technological advances.