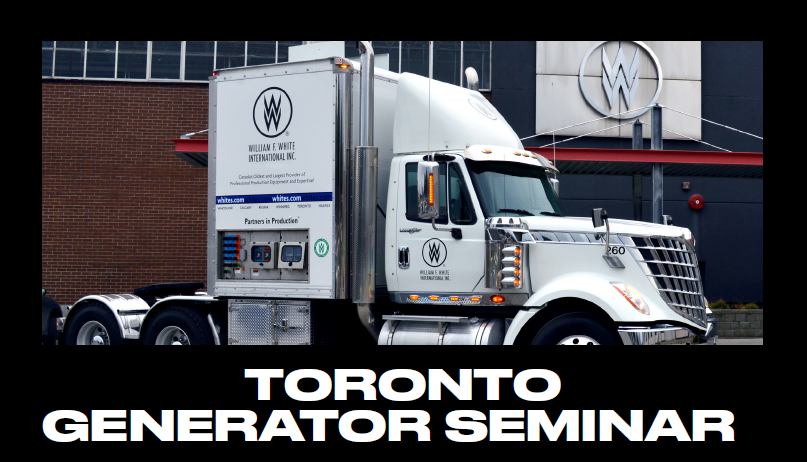 Generator Seminar - Fall/Winter 2022
An advanced two-day seminar which includes basic skills/hands-on experience operating entertainment industry generators coupled with associated electrical safety practices and on-set protocol.  Topics include engine alternators, grounding, bonding, operations, temporary power sources, electrical distribution systems, transformer theory and more.  The course is comprised of 75% theory and 25% practical training.  Our instructors are industry professionals who possess a wide variety of expertise, knowledge and practical experiences.  The seminar is nationally recognized by Canadian IATSE Locals and NABET 700 Unifor as a reliable training source for their professional technicians.
Note: This event is a seminar for film industry professionals, preferably with experience in the electrical department. This is not a government regulated course and as such the participants will recieve a record of training, not a certification.
For further professional development in this industry, consider persuing the Ontario 269E certified trade designation - Entertainment Industry Power Technician (EIPT)
**Further hands-on training and job shadowing is highly recomended**
Course Details:
Saturday October 22 to Sunday October 23, 2022
8:00am - 5:00pm (2 Days)
Cost: $330.00 (tax included) + Eventbrite fee
*CSA approved footwear and high-viz required.  Multi-meter and calculator optional but considered an asset.*
Agenda
The training program is designed to equip you with the following skills:
OPERATION
   1) Ensure a safe and reliable and compliant supply of electrical power to the production.
   2) Protect personnel from injury.
FUEL
   3) Ensure the Generator has enough fuel.
   4) Prevent fuel and coolant leaks.
PROFESSIONALISM
   5) Be responsible to the rental house for the safe operation and return of their equipment.
   6) Adhere to the production's code of ethics.
   7) Be a professional through ongoing training.