828 Beatrice Crescent
Sudbury, ON 
P3A 3E5
Hours: Mon–Fri, 8am–5pm ET
TEL: 705-885-1242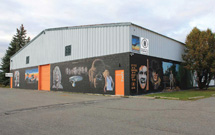 Whites Sudbury opened in 2014 with the goal of servicing productions of all sizes in northern Ontario. Partnering with Northern Ontario Film Studios, we're located within NOFS's studio, where we provide the production community with our professional equipment and expertise. Recent productions include Indian Horse, Cardinal, Letterkenny, The Void and Bad Blood.